L!VE from the "City Of Angel's" Los Angeles, California I present to you Flashius Clayton. He is one of the most consistent artists out on an independent level right now. When you hear him & Dirty Diggs together you know it's a banger. With dope projects under his belt like "Wolf Moon" "8 Diagram Polo Fighter" & "Fronto Fever Dreams" you can tell sky is the limit for him.
( Team Moet ) Who is Flashius Clayton for the fans that don't know, just catching on or will soon catch on?
( Flashius Clayton )
I'm a serious artist. People know me for the rhymes mostly but I'm a full spectrum hip hop musician. I also collect records, I'm a producer, I make beats, I play bass and a little keys. I'm the dude that does whatever it takes to make a song or project as dope as possible.
I'm also the founding member of Knuckle Sandwich Deli crew (myself, Lisaan'dro [ @panamanian_dro & @FrozenDeliDon ) and also a member The Craftsmen (‪ @_SKUNKZZ ‬& myself).
( Team Moet ) Although you're from Northern California your music seems like the East Coast influenced you a lot would you agree? What artist played the biggest influence?
(Flashius Clayton )
I'm definitely a NY oriented West Coast artist.
If I had to name one artist that inspired me the most when I decided to rap is Nas. I was around 14-15 when I heard "NY State or Mind" and the rest of "Illmatic" but by the end of verse 1 on NYSOM I decided to dedicate my young life to being as vivid and ill as Nas when he said he never slept because sleep was the cousin of death.
Before that pivotal moment I was being exposed to artists on the local scene like Dre Dog, E40, Mack Mall, JT Tha Bigga Figga, San Quinn and dudes like that had the region captivated. But none of them ever inspired me to rhyme like Nas did.
Coming from Daly City right outside of San Francisco, everyone around me was mostly patriotic Bay Area Rap fans. I like all that shit too but it didn't move me like that NY State Of Mind did. I'm mixed with Puerto Rican. Being that NY and PR is historically intertwined, I feel like all Puerto Ricans naturally gravitate to NY East Coast shit. I was a teenage graffiti addict and I studied a lot of hip hop. At the roots of the culture is New York gang and street lore. That world transfixed me.
My sound is break beat oriented and while that sound is traditional meat and potatoes East Coast hip hop there is a rich history of California artists in this vein who preceded me. Rasco and Planet Asia ( Cali Agents ) , Alchemist, Dilated, Hiero etc were all an inspiration to be a CA rep with a blatantly East Coast/sample based sound.
( Team Moet ) Would you say it's easier or harder to build a loyal audience for you since most of your catalog of music isn't all over popular streaming platforms like Apple Music & Spotify ?
( Flashius Clayton )
For me it's a challenge to build my audience period. I feel like my product is on point but awareness is lacking.
I could most likely boost my visibility by being more active on the DSP's but they aren't super important to me. I don't have the sort of audience that streams my music all day. I have a certain amount of physicals I want to sell before I go the stream route. The money in streaming is depressing frankly. One physical CD sale is equivalent to a hundred thousand streams. That shit just ain't making me any money. DSP's are a cool little resume bullet but until I have a much bigger audience it's not something I'm not going to put a lot of energy into.
Right now my focus isn't being on Apple Music. That's an easy feat to accomplish. Streaming money would be nice but one of my goals is to sell hundreds of records within an hour of release. The people who are competitive about buying hip hop records will buy a highly sought after record regardless if its on Spotify or not. The buyer I want to captivate would probably be more inclined to buy an expensive vinyl release if it wasn't on Tidal.
( Team Moet 610 ) I would assume it's more profitable doing it this way. Would you also agree that the fan experience is more authentic & genuine this route as well?
( Flashius Clayton )
I can't say it's more profitable- it's just a better look for me right now.
And I can't even say it's more authentic and genuine. Those are words people use to describe my character but I wouldn't ever say I'm more authentic or genuine than anybody. That's not for me to decide. I can't say selling CDs and Vinyl is more real than being fully reliant on streaming but as a product a physical is infinitely more tangible than a stream or an mp3. They always say you can't hold a stream in your hand like a record. Physicals are definitely a more tangible product than an mp3 that you can only hold in a cloud or a silicone chip.
( Team Moet 610) You & Dirty Diggs coming together is a perfect match & we been getting nothing but quality music as a result. Tell me a little bit about that chemistry?
( Flashius Clayton)
Shout out to Dirty Diggs I consider those dudes family. In 2018 I sent "Wolf Moon" to a bunch of people that I follow to make sure people heard it. JR from Diggs was one of those. We started working and kept working and I ended up spending a lot of time at their studio. I became a constant presence in their lab and was able to work with legends like Defari, Planet Asia and AA Rashid to name just a few.
The chemistry with Diggs is automatic because we be making music on some Main Source Just Hangin Out shit. The process working with Diggs is you smoke a thousand blunts they play a thousand beats in the lab, or maybe sometimes I'm there while they're making new beats and I get to claim a new born baby.
But basically I hear a hot beat that sparks rhymes instantly and if it's not being used I try to rap on it on the spot before someone else gets to it. You write and record on the spot for the best results working with Diggs and you have to be ready to go with your verse within an hour or two. Luckily my sword is pretty sharp and I've never started writing a verse at Diggs lab and left without laying it. As much fine cannabis that gets burned in there, that's actually a superhuman feat, true story.
( Team Moet 610 ) The album that caught my attention was "Wolf Moon" . It gave me the vintage underground sound. How big was that project for your career?
( Flashius Clayton )
Wolf Moon helped me refine my formula. It was the biggest most lucrative project I put out up until Fronto Fever Dreams. I actually have a Wolf Moon LP coming out on CD and vinyl. It's the original EP with two bonus songs and a nice remix of one of the fan favorites. The additional material really rounds out the album and the ill part is I wanted both bonus tracks to be on the original and I wasn't able to make it happen. They really work in context with the original track listing, I'm mad proud of that project.
People mostly don't know but I was hand sewing canvas Wolf Moon artwork patches onto Starter Hoodies at the beginning of 2018. I also got a lot of attention for printing the album cover on Ralph Lauren Polo Ts. I always try to come up with quality rare merch for the fiends. I plan to bring Polo Ts and maybe Reverse Weave Champion hoodies this time when I put the LP version of that project up for sale.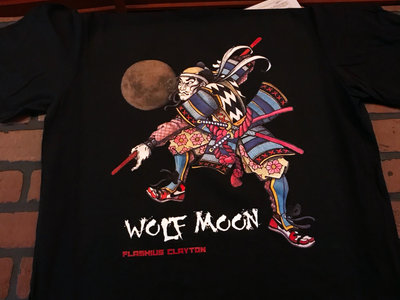 ( Team Moet ) You've already had a busy 2020 starting with an instrumental project "The Headbanger Boogie For The Marijuana Shopper Vol. 1" then "8 Diagram Polo Fighter" & two collab projects with ‪@_SKUNKZZ ‬. All of this after dropping a superb album "Fronto Fever Dreams" in November 2019. Do you plan on slowing down or can we get used to new music from you regularly?
( Flashius Clayton )
I'm just getting started. I've been a professional working rapper since about when the lock downs really started to spread. I'm looking to out work every artist in the scene right now. I'm on a freelance campaign to assert my dominance, no bullshit. You're going to hear a lot of features and collab EPs from me this year. We had some problems with the acetate factory fires and the quarantine not to mention the mass protests really shook me up. I had to take time off to be angry about the injustice and police brutality that's been a constant in my life since I was aware of reality.
I have another Craftsmen Excursions EP with‪@_SKUNKZZ ‬ on the way. There are so many EPs in motion I can't keep track of all of them. Two different EPs with producers who took advantage of my quarantine verse rates are being constructed as we speak. One EP with Donnie The Jeweler on production is on the way. I am working on two full length solo albums that I plan to drop between now and summer 2021 if all goes well. The first will be titled "Knuckle Sandwich Deli". It's going to be on some Ironman shit featuring Lisaan'dro and Donnie the way Ghost had Rae & Cap spot lit. We got some brand name underground producers and a couple big guests… but it's going to be a Deli showcase.
The other album I'm
gestating is my dark magnum opus "El Padrone". There's a bootleg of the title track on YouTube right now featuring Conway. The beat and the subject matter of that song should give you a good idea of what to expect from that album but I don't think people are really ready for the journey through the dark side that El Padrone is. I'm not even ready or else that album would have come out years ago.
I have Schott Free co-executive producing the album with me and there is no way we are submitting anything less than an all time classic. With Free in the mix you can be certain that there will be some major features on that track list that will cause the scene to buzz and rumble. I'm talking about some BIG DOG LEGENDS too.

( Team Moet ) We follow each other on Twitter & one thing I noticed is not only are you an artist but also a huge hip hop fan what are your top 5 personal favorite albums of all time?
( Flashius Clayton) I'm not as rabid of a fan as I used to be but I spent so many years being a student of the music and culture I can't help making statements unfitting of a diplomat from time to time.
I'm a student of the giants. It would be impossible to name only 5. One of the best albums I've ever heard is J Dilla's first Beat CD from 2005. The one that starts off with that Hum Bum beat. But I like I a lot of different shit for different reasons. These days I isolate myself and do my best not to listen to anyone to help keep the energy that sparks my inspiration pure.
I can't be The Man and a super fan at the same. I know for a fact that it would dilute my potency.

( Team Moet ) How is it that underground artists are thriving an dropping music consistently still during this quarantine but the majors are releasing little to none?

( Flashius Clayton )
People sitting at home in this era want to be entertained. A lot of us record at home and are well suited to be being stuck in the crib. It was a perfect storm for a indie artist right now.
But with the protests going on world wide in the wake of the brutal cold blooded murder of George Floyd in Minneapolis- I don't know. The importance of making empty statements and swaggin out just to swag has lessened immensely for me. I was hyper creative in the quarantine before they killed George Floyd on Film. Everything that happened in the wake of that cowardly disaster completely drained me of the desire to rap.
The world is changing so fast I don't know if there will be a place for shallow music when we get to the next stop of this journey.
( Team Moet 610 ) Being that we both liked "The Source" magazine growing up & it influenced us into the music culture in different ways. What do you think it would take for them to do so they can play a key role in this new age rap culture ?
( Flashius Clayton)
I don't even know man because people are extra ignorant right now. It's acceptable to dismiss someone for writing "paragraphs". A lot of proudly functioning illiterates can't be bothered to read. Magazines used to be the medium that people transmitted information through. Now all that info is floating in the clouds. And for whatever reason, people prefer to read off of paper. If you tried to monetize a magazine you would have your work cut all the way out for you.
Honestly if you want to see what we saw with The Source you need an ecosystem that can sustain the lives of people the way hip hop did in the golden era. We have a vibrant scene and talented writers documenting a renaissance but if the artists ain't making crazy bread off the scene how will article writers and rap journalists be able to?

( Team Moet ) What's your thoughts on these recent protests & the fact racism still plays such a huge factor in day to day life in America ?
( Flashius Clayton )
The anger and outrage we were seeing is more than justified and long overdue. I feel like they really tried to normalize murdering black men on film and it blew up in their fucking faces. Racism is a thing because white supremacy needs it to be able to exist. What we are seeing is ignorant, scared, racist white people who know that if they don't fight for their culture, it will perish. They don't want to give up the wheel.
Crazy white people are taking their last stand and that is why racism is still such a powerful construct in 2020.
( Team Moet ) Do you think we can solve the race issues that America still faces? If so how & what will it take?

We definitely can but it's going to take violent upheaval.
There are people in the world who wake up and the first thing they do is fix their heart to hate others who don't resemble them. Descendants of white immigrants and exiles telling descendants of different black and brown immigrants, many of the whom were kidnapped from their motherland, to go back to where their white ancestors stole them from.
I'm not a fan of fat ugly white women who drunkenly harass non whites for being alive… but I don't wake up obsessed with them either. I don't make time to stew in my own hatred of the ignorant and ugly that's the difference between me and the enemy we face.
We need to know who we are dealing with and mobilize to meet the threat. There is a massive world wide movement of ignorant white backlash to the world becoming color blind. They have been mobilized and weaponized and are actively fighting a Guerilla war. We need to do the same. If their was an army for us I would have been enlisted.